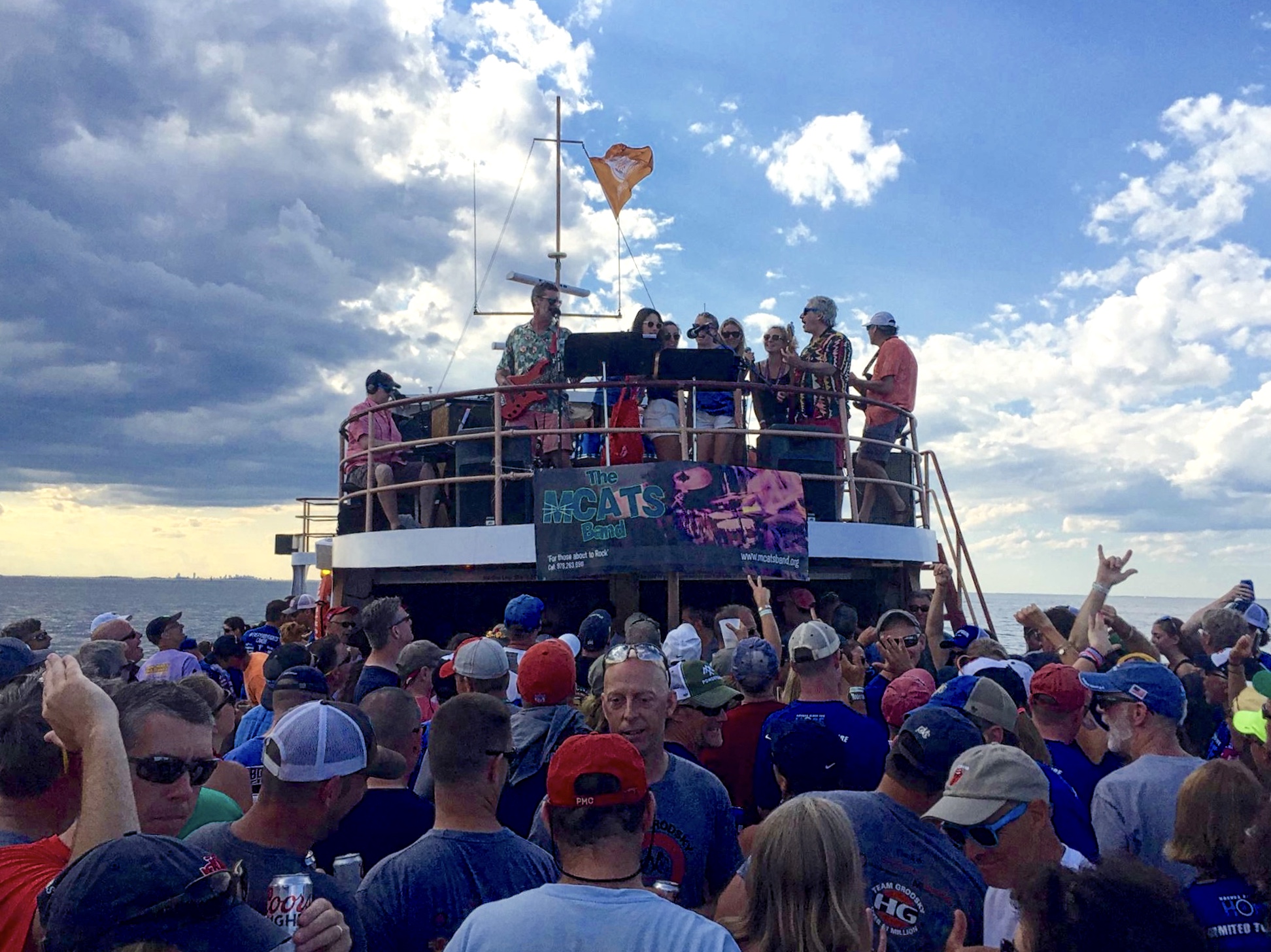 This was a great gig for a great cause. Here's how we promoted the gig:
The MCats Band is honored to be playing on the #PMC2016 Party Ferry on 08/07/16 from P-Town to Boston 3-6pm. Thanks to all who ride to cure cancer for Pan-Mass Challenge, especially Mark Wessel and Team Lick Cancer. We love you mans!
As one of our favorite PMC riders said:
So great to have the MCats play the PMC 2016 Party Boat – you guys rocked it!!!
Set 1
1. (G) Born to be Wild (E) – Eamon
2. (A) It's All Been Done (D) – Erik
3. (G) Centerfield (G) – Eamon
4. (K & D) Breakdown (Am) – Eamon
5. (B & D) Stray Cat Strut (Cm) – Paul
6. (G) 500 Miles (E) – Eamon
7. (K & B) Oye Como Va (A) – Jon / ET
8. (G) Look Sharp (C) – Jon
9. (G) No Matter What (A) – Eamon
10. (G) Should I Stay or …(D) – Eamon
11. (G) Just What I Needed (E) – Eamon
12. (A) Sultans of Swing (Dm) – Jon
13. (G) Lonely Boy (E) – Eamon
14. (B) Psycho Killer (Am) – Erik
Set 2
1. (G) Last Dance with Mary… (A) – Eamon
2. (A) Smoking Gun (E) – Eamon
3. (G) Gimme Three Steps (D) – Jon
4. (D & B) Just Like Heaven (A) – Erik
5. (K & D) Bohemian Like You (B) – Jon
6. (D) Honky Tonk Women (G) – Eamon
7. (G) Brown Sugar (C) – Eamon
8. (A) Bad Case of Lovin' You (E) – Eamon
9. (K) Old Time Rock 'n Roll (E) – Eamon
10. (G) What I Like About You (E) – Erik
11. (G & B) You Wreck Me (D) – Eamon
12. (G) Runnin' Down A Dream (E) – Jon
13. (A) Can't Get Enough… (C) – Eamon
14. (A) Learn to Fly (B) – Erik
Set 3
1. (G & B) Sunshine of your… (D) – ET / Jon
2. (G) Rock 'n Roll Fantasy (E) – Eamon
3. (G) Same Old Song and… (E) – Eamon
4. (B) Are You Gonna Be… (A) – Eamon
5. (G) Tush (G) – Eamon
6. (G & K) Centerfold (G) – Jon
7. (G) I will Follow (E) – Eamon
8. (A) Refugee (F#m) – Eamon
9. (G) 867-5309 (Jenny) (F#m) – Eamon
10. (A) Peace, Love and… (G) – Jon
11. (A) Summertime Blues (D) – Eamon
12. (D) Love Shack (C) – Eamon / Girls
Encore
13. (G) Already Gone (G) – Jon
14. (G & K) Rebel Yell (B) – Eamon
15. (G) Dirty Water (E) – Jon
Others:
1. (G) You Really Got Me (G) – Eamon
2. (D) We're an Amer. Band (D) – Eamon
3. (A) White Room (D) – Eamon
4. (A) I Want To Be Sedated (E) – Jon
5. (G & D) Cover Me (Bm) – Eamon
6. (A) It's a Shame about Ray (A) – Erik
Legend
(A) All in
(G) Guitar
(D) Drums
(K) Keys
(B) Bass