MCats Gig #72.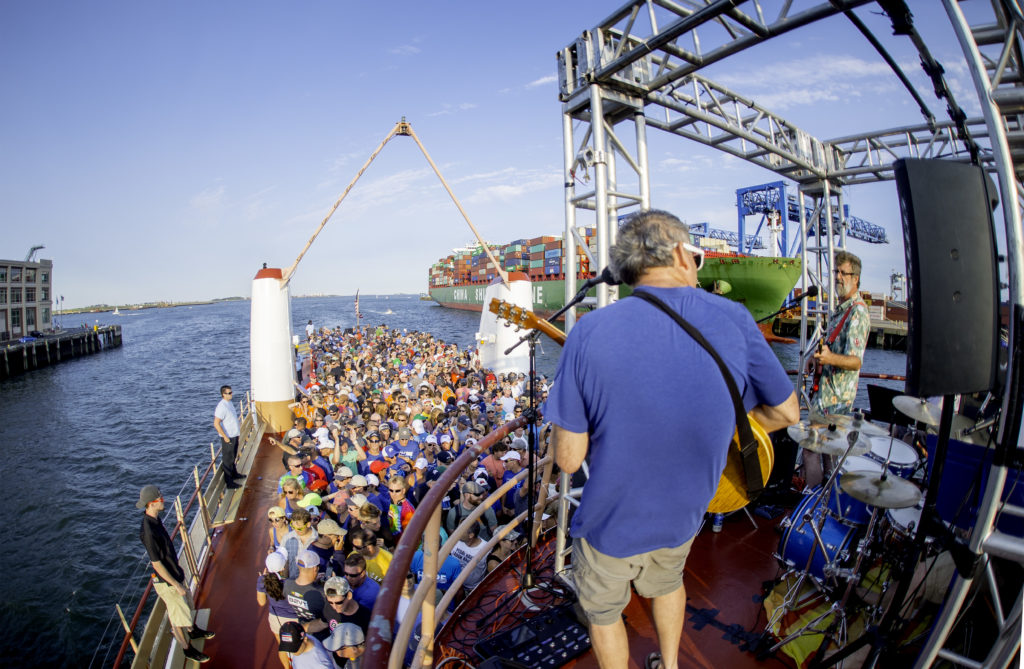 The MCats Band was honored play for Pan-Mass Challenge again this year (Sun 08/06/17) on the #PanMass2017 Party Ferry! For those who may not know, the Pan-Mass Challenge (PMC) was founded in 1980 Billy Starr as an across-Massachusetts, bike-riding, cancer-fighting, fundraising event that today draws 6,000 cyclists from 41 states and eight countries. Today, the PMC raises more money than any other athletic fundraising event in the country – including more than 50% of annual revenue for The Jimmy Fund – and is the single largest contributor to the Dana-Farber Cancer Institute in Boston. We previously blogged about how cancer has impacted those of us in The MCats Band, which itself was formed as a fundraising band in 2005.
The PMC Party Boat gig is great gig for a great cause. It is also an exhaustingly long day (12+ hours door-to-door), but not as long as those who spent two full days riding their bikes across Massachusetts from Sturbridge to Provincetown! Our day nominally starts at 8:00am as we head with our cars full of gear from Acton to Boston, where we load in on the Provincetown II ferry (the "slow ferry") from Boston to Provincetown (via a short stop at Black Falcon Terminal). Our three-hour tour (repeat, three-hour tour) is packed with moving our gear up one or two flights of stairs (depending on the tides) to the top deck, where we cram into a small (about 100 square feet) space, unpack, setup, and do sound check. Since we were only going to be in Provincetown for an hour or less (something about the wind), Captain Mark arranged to have pizza prepared for the band, a treat we very much appreciated! We arrived in Provincetown around 2:30pm and departed around 3:30pm. There were 988 souls on board, putting the total (including band and crew) at over 1,000, a new record!
The seas were rougher this year and the wind windier, making playing even more challenging, but we were up for the challenge! (Plus no whale sightings.) We kicked off with our regular "Born To Be Wild" after clearing the jetty in Provincetown harbor and concluded with three Boston favorites ("Mustang Sally," "Rebel Yell," and "Dirty Water") around 6:45pm at Black Falcon Terminal. Back at the World Trade Center, we finished unloading our gear and packing up the cars around 8:00pm and headed to at late dinner Rapscallion in Acton, where we'll be playing later this year.
There were, however, two glaring omissions in the center of the stage. We forgot our big sign – and our big rhythm guitar player Jon! Missed you both!
Overall it was another epic day for a great cause. Ride on, riders, closer by the mile!
Pics
[ngg_images source="galleries" container_ids="1″ display_type="photocrati-nextgen_basic_thumbnails" override_thumbnail_settings="0″ thumbnail_width="240″ thumbnail_height="160″ thumbnail_crop="1″ images_per_page="50″ ajax_pagination="0″ show_all_in_lightbox="0″ use_imagebrowser_effect="0″ show_slideshow_link="1″ slideshow_link_text="[Show slideshow]" order_by="filename" order_direction="ASC" returns="included" maximum_entity_count="500″]
Setlist
Set 1
1. (G) Born to be Wild (E)
2. (A) It's All Been Done (D)
3. (G) Centerfield (G)
4. (K & D) Breakdown (Am)
5. (B & D) Stray Cat Strut (Cm)
6. (G) 500 Miles (E)
7. (K & B) Oye Como Va (A)
8. (G) Look Sharp (C)
9. (G) No Matter What (A)
10. (G) Should I Stay or Should I Go (D)
11. (G) Just What I Needed (E)
12. (G) You Gotta Fight (Am)
13. (G) Lonely Boy (E)
14. (B) Psycho Killer (Am)
Set 2
1. (D) Honky Tonk Women (G)
2. (G) Brown Sugar (C)
3. (A) Midnight Hour (D)
4. (K & D) Bohemian Like You (B)
5. (A) Bad Case of Lovin' You (E)
6. (K) Old Time Rock 'n Roll (E)
7. (G) What I Like About You (E)
8. (G & B) You Wreck Me (D)
9. (G & D) Cover Me (Bm)
10. (A) Learn to Fly (B)
11. (G) Runnin' Down A Dream (E)
Set 3
1. (D) Love Shack (C)
2. (G) Rock 'n Roll Fantasy (E)
3. (G) Tush (G)
4. (V) *Move it on Over (G)
5. (G) I Will Follow (E)
6. (D) I Fought The Law (D)
7. (G) 867-5309 (Jenny) (F#m)
8. (A) Peace, Love and Understanding (G)
9. (A) Summertime Blues (D)
10. (A) I Want To Be Sedated (E)
11. (D) Rock 'n Roll (G)
12. (D) *Rock 'n Roll all night (G)
13. (A) Mustang Sally (C)
Encore
1. (G & K) Rebel Yell (B)
2. (G) Dirty Water (E)
Legend
(A) All in
(G) Guitar
(D) Drums
(K) Keys
(B) Bass
(V) Vocals
* = new to us
Pics