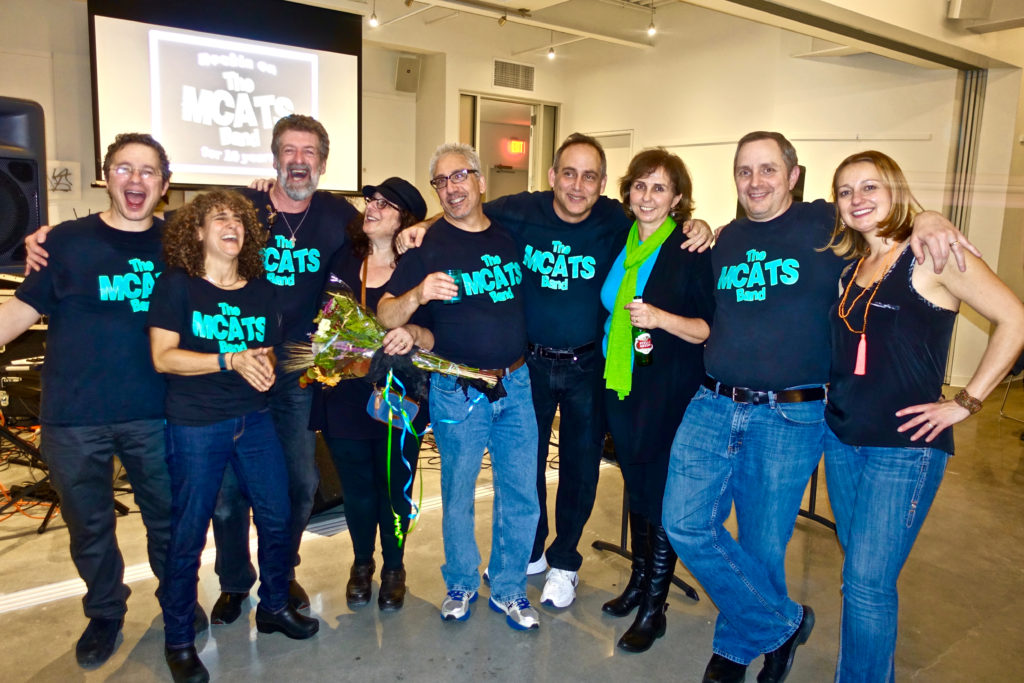 The MCats Band is pleased to announced that is has officially commenced its second award-winning decade! To celebrate the occasion, we had a small private party at West Acton Villageworks, which also marked the soft launch of The Gallery at Villageworks.
And if the accolades, gigs, and parties weren't enough, we were flattered to be featured in a BBC America documentary, which debuted at the event:
Finally, and only tangentially related, our keyboard player Erik (notably the only member of the band besides Josh, the drummer, to play sitting down) is moving his law firm, Clocktower Law, to West Acton Villageworks in the spring of 2016.
To those who have rocked, do rock, and shall continue to rock, we salute you!
Set 1

Breakdown (Am) – Eamon
It's All Been Done (D) – Erik
Oye Como Va (A) – Jon / Eamon
*Look Sharp (C) – Jo
No Matter What (A) – Eamo
*Girlfriend – Erik
Sultans of Swing (Dm) – Jon
Stray Cat Strut (Cm) – Paul
Lonely Boy (E) – Eamon
Pump It Up (B) – Jon
Psycho Killer (Am) – Erik
Set 2
*When Will I Be Loved (F) – Rebecca
Old Time Rock 'n Roll (E) – Eamon
Bohemian Like You (B) – Jon
Just Like Heaven (A) – Erik
Honky Tonk Women (G) – Eamon
Brown Sugar (C) – Eamon
What I Like About You (E) – Erik
I Fought The Law (D) – Eamon
You Wreck Me (D) – Eamon
Runnin' Down A Dream (E) – Jon
Can't Get Enough Of Your Love (C) – Eamon
Learn to Fly (B) – Erik
Set 3
Rock 'n Roll Fantasy (E) – Eamon
Sunshine Of Your Love (D) – Eamon / Jon
Please Come Home For Christmas – Paul
*Come As You Are (E) – Erik
Tush (G) – Eamon
867-5309 (Jenny) (F#m) – Eamon
Peace, Love And Understanding (G) – Jon
Love Shack (C) – Eamon
Already Gone (G) – Jon
The Boys are Back (A) – Eamon
* = new to us