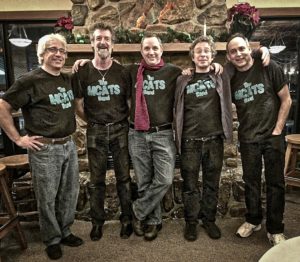 By popular demand The MCats Band was welcomed back to the Coppertop Lounge (after last year's epic gig) to kickoff the 2014-2015 season of live music at Wachusett Mountain. Slightly warmer than seasonal weather did not stop the throngs of skiers and Actonian fans from descending on the Coppertop for what many called a "righteous gig."
No doubt the MCats entering their second decade of playing together had something to do with the tight tunes played that night. Friends from as far away as Persia rocked out.
And, for the record, I'm pretty sure this was the first time since our fist gig that we played the setlist exactly. So there's that.
Set 1
It's All Been Done (D) – Erik
You Wreck Me (D) – Eamon
Cover Me (Bm) – Eamon
Just What I Needed (E) – Eamon
Breakdown (Am) – Eamon
No Matter What (A) – Eamon
Sultans Of Swing (Dm) – Jon
Smoking In The Boys.. (A) – Jon
Honky Tonk Women (G) – Eamon
Brown Sugar (C) – Eamon
Learning to Fly (B) – Erik
Lonely Boy (E) – Eamon
Psycho Killer (Am) – Erik
Set 2
Old Time Rock 'n Roll (E) – Eamon
Rock 'n Roll Fantasy (E) – Eamon
Bohemian Like You (B) – Jon
Just Like Heaven (A) – Erik
Oye Como Va (A) – Jon / Eamon
*Please Come Home For Christmas (A) – Paul
*Run Rudolph Run (A) – Jon
Smoking Gun (E) – Eamon
Already Gone (G) – Jon
Refugee (F#m) – Eamon
867-5309 (Jenny) (F#m) – Eamon
Peace, Love And Understanding (G) – Jon
Tush (G)
Rebel Yell (B) – Eamon
* = new to us