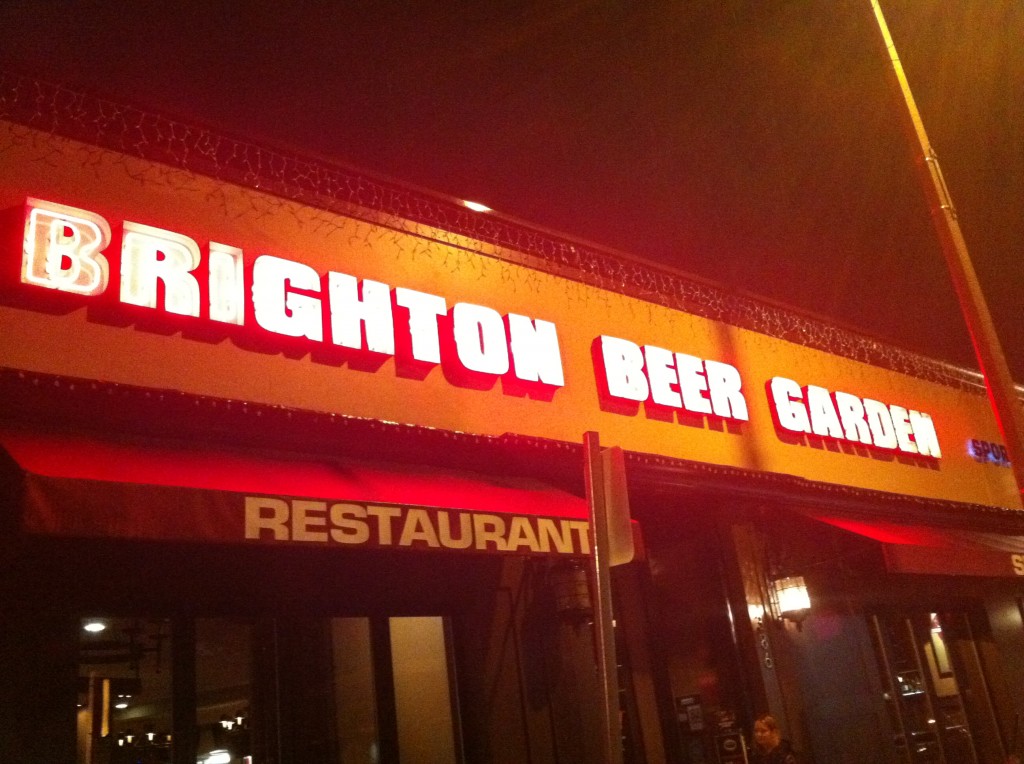 Last night, after finishing remodeling his kitchen, Paul and the gang loaded up the tour bus and headed to Boston (well, Brighton, actually) for their much anticipated gig at the Brighton Beer Garden (BBG).
The BBG is a theme-based joint, but I couldn't quite put my finger on it. Some college or something.
In any event, the BBG was packed with lots of 40-somethings from Greater Acton, lots of 20-somethings from Greater Boston, and one 30-something (thanks for coming).
Note to self: two longer sets work better for these types of gigs rather than three longer sets. Second note to self: change band's tagline to "From Brighton To Boylston." Or something like that.
Set 1
Good Lovin' (C) – Grateful Dead
It's All Been Done (D) – Barenaked Ladies
Centerfield (G) – John Fogerty
Born To Be Wild (E) – Steppenwolf
Just What I Needed (E) – The Cars
Sultans of Swing (Dm) – Dire Straits
Stray Cat Strut (Cm) – Stray Cats
Peace, Love and Understanding (G) – Elvis Costello
Should I Stay or Should I Go (D) – The Clash
Stand (E) – R.E.M.
Devil With A Blue Dress On & Good Golly Miss Molly (C to Eb, sax) – Mitch Ryder & The Detroit Wheels
Breakdown (Am) – Tom Petty & The Heartbreakers
Psycho Killer (Live) (Am) – Talking Heads
Set 2
Sunshine of Your Love (D) – Cream
My Best Friend's Girl (F) – The Cars
Learn to Fly (B) – Foo Fighters
Can't Get Enough (C) – Bad Company
Smokin' In The Boys' Room (recorded in D, play in A) – The Brownsville Station
Just Like Heaven (A) – The Cure
Pump It Up (B) – Elvis Costello
Back In The U.S.S.R. (A) – Paul McCartney
Tush (G) – ZZ Top
I Fought the Law (D) – The Clash
Honky Tonk Women (G) – The Rolling Stones
867-5309 (Jenny) (F#m) – Tommy Tutone
Turning Japanese (G) – Vapors
Set 3
*It's a Shame About Ray (A) – The Lemonheads
Take Me To The River (Live) (E) – Talking Heads
Cover Me (Bm) – Bruce Springsteen
*Are You Gonna Be My Girl (A) – JET
Takin' Care of Business (C) – Bachman-Turner Overdrive
Runnin Down A Dream (E) – Tom Petty
* = new