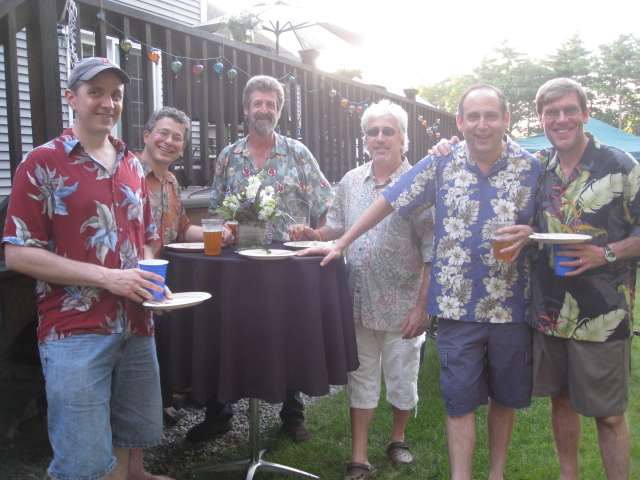 I'm pretty sure that yesterday the MCats set a record for the total number of songs played in a gig: 42!
Of course, because 42 is the answer to everything!
The photos are a bit out of focus, but the party-goers all celebrated Valerie's 39th birthday (39, right?) in style!
Thanks to the Gores for hosting a fine event on a great evening for a party in Acton!
I even manged to capture a before (sound check) and after (last call) video. So you can see why "set 1" songs differ from "set 3" songs. Party on!
Set 1
Centerfield (G) – John Fogerty
Breakdown (Am) – Tom Petty & The Heartbreakers
Stray Cat Strut (Cm) – Stray Cats
Moondance (Am, sax) – Van Morrison
Bad Moon Rising (D) – Creedence Clearwater Revival
Sultans of Swing (Dm) – Dire Straits
Should I Stay or Should I Go (D) – The Clash
Stand (E) – R.E.M.
The Last Time (E) – The Rolling Stones
Psycho Killer (Am) – Talking Heads
Set 2
Margaritaville (D) – Jimmy Buffett
My Best Friend's Girl (F) – The Cars
Brown Eyed Girl (G) – Van Morrison
Learn to Fly (B) – Foo Fighters
Peace, Love and Understanding (G) – Elvis Costello
Can't Get Enough (C) – Bad Company
Louie Louie (A) – The Kingsmen
Smokin' In The Boys' Room (recorded in D, play in A) – The Brownsville Station
Just Like Heaven (A) – The Cure
What I Like About You (E) – The Romantics
867-5309 (Jenny) (F#m) – Tommy Tutone
Turning Japanese (G) – Vapors
Mustang Sally (C, sax) – Wilson Pickett
Set 3
Birthday (A) – The Beatles
Oye Como Va (Am, sax) – Santana
Tequila (E, sax) – The Champs
Take Me To The River (E) – Talking Heads
Refugee (F#m) – Tom Petty & The Heartbreakers
Born To Be Wild (E) – Steppenwolf
Takin' Care of Business (C) – Bachman-Turner Overdrive
Pink Cadillac (E, sax) – Bruce Springsteen
Honky Tonk Women (G) – The Rolling Stones
*Cover Me (Bm) – Bruce Springsteen
*Glory Days (A) – Bruce Springsteen
Summertime Blues (Remixed Live) (D) – The Who
Encore
Devil With A Blue Dress On & Good Golly Miss Molly (C to Eb, sax) – Mitch Ryder & The Detroit Wheels
Smoking Gun (E) – Robert Cray
Brown Sugar (C, sax) – The Rolling Stones
Love Shack (C) – The B-52's
Runnin Down A Dream (E) – Tom Petty
Sweet Caroline (recorded in B, play in A) – Neil Diamond
Dirty Water (E) – The Standells
* = new (for the Jersey girl)