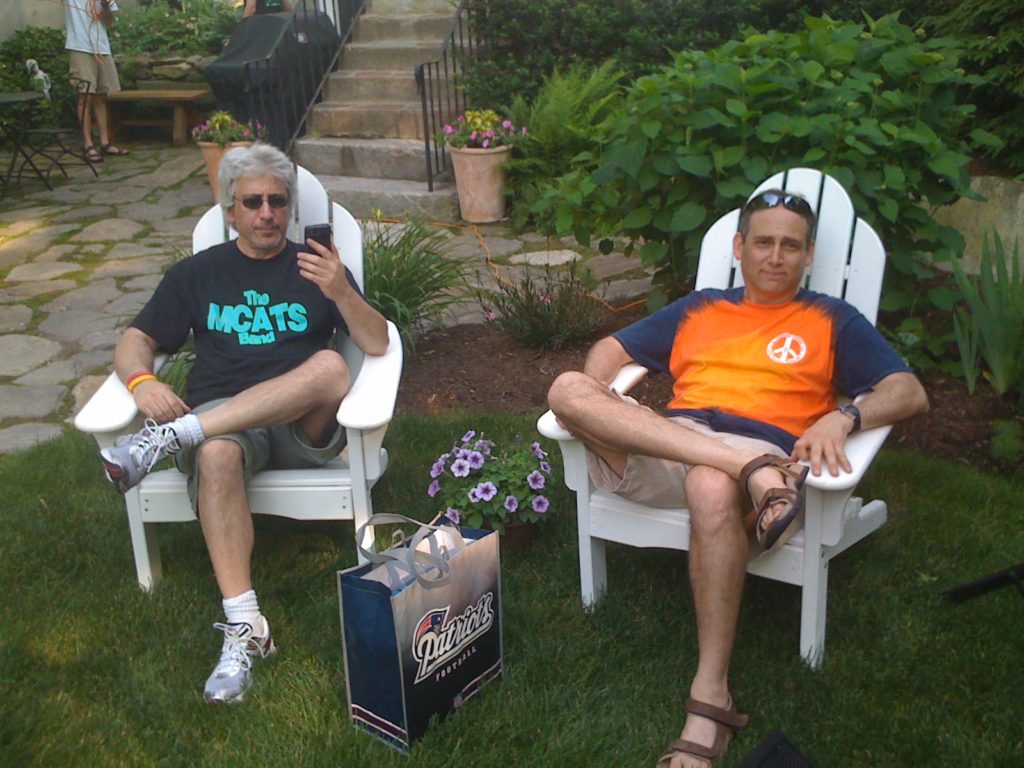 The MCats rocked Main Street in Acton and only drew one police car!
But seriously, a perfect venue, perfect weather, awesome hosts, and a fun night!
Thanks to the Thorpes for what we hope will be an annual tradition!
The party was way more fun than my one photo indicates!
Set 1
Good Lovin' (C) – Grateful Dead
Sunshine of Your Love (D) – Cream
Stray Cat Strut (Cm) – Stray Cats
Breakdown (Am) – Tom Petty & The Heartbreakers
Peace, Love and Understanding (G) – Elvis Costello
Just Like Heaven (A) – The Cure
Just What I Needed (E) – The Cars
Stand (E) – R.E.M.
I Fought the Law (D) – The Clash
Psycho Killer (Live) (Am) – Talking Heads
Sultans of Swing (Dm) – Dire Straits
Set 2
My Best Friend's Girl (F) – The Cars
Pump It Up (B) – Elvis Costello
Back In the U.S.S.R. (A) – Paul McCartney
Honky Tonk Women (G) – The Rolling Stones
Centerfield (G) – John Fogerty
Smokin' In The Boys' Room (recorded in D, play in A) – The Brownsville Station
Should I Stay or Should I Go (D) – The Clash
Can't Get Enough (C) – Bad Company
867-5309 (Jenny) (F#m) – Tommy Tutone
Turning Japanese (G) – Vapors
Set 3
No Matter What (A) – Badfinger
Rock And Roll, Hoochie Koo (A) – Rick Derringer
Takin' Care of Business (C) – Bachman-Turner Overdrive
Refugee (F#m) – Tom Petty & The Heartbreakers
Smoking Gun (E) – Robert Cray
Tequila (E, sax) – The Champs
Brown Sugar (C, sax) – The Rolling Stones
Oye Como Va (Am, sax) – Santana
Summertime Blues (D) – The Who
What I Like About You (E) – The Romantics
Encore
Love Shack (C) – The B-52's
Mustang Sally (C, sax) – Wilson Pickett
Louie Louie (A) – The Kingsmen
Lean On Me (C) – Bill Withers