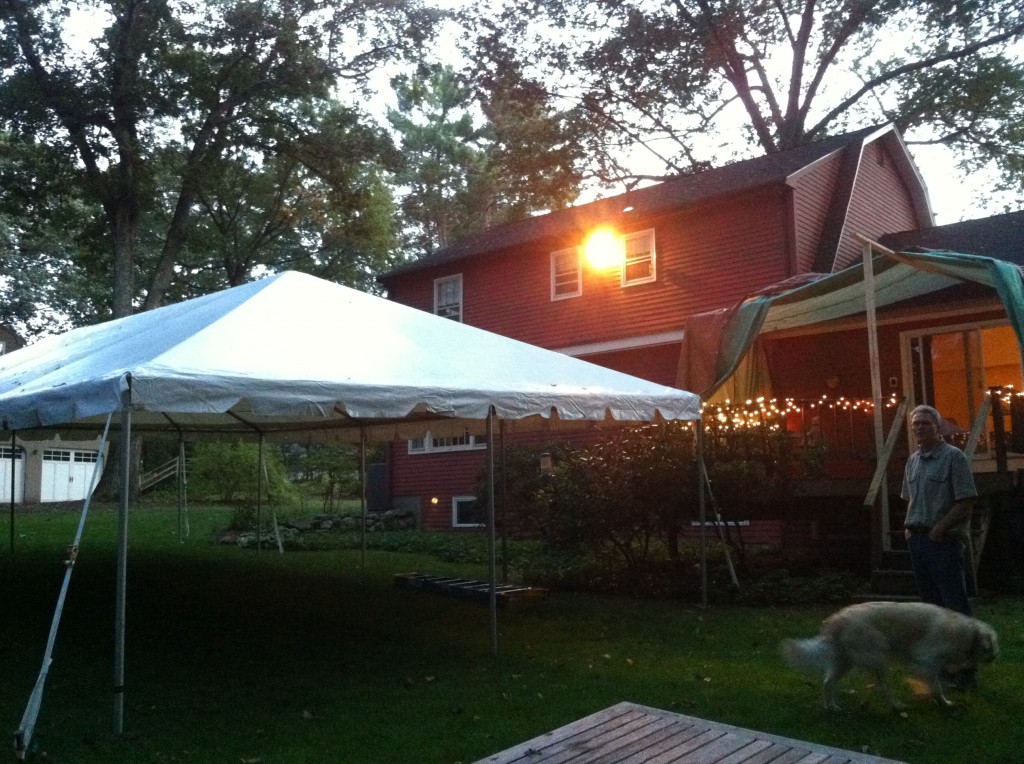 A Jon-less (I think that's a word) MCats played under the largest tent under which they've ever played under which. Or something like that. Rain threatened, but did not interfere with, this non-surprise birthday party for Paul "Murph" Murphy. Thankfully, neighbors were invited, so we got to finish our songs.
Plus, zero skydivers landed on the giant tent, so that's good.
Thanks to the Murphys for a great time!
Set 1
Good Lovin' (C) – Grateful Dead
Bad Moon Rising (D) – Creedence Clearwater Revival
It's All Been Done (D) – Barenaked Ladies
Centerfield (G) – John Fogerty
Just What I Needed (E) – The Cars
Sultans of Swing (Dm) – Dire Straits
Stray Cat Strut (Cm) – Stray Cats
Peace, Love and Understanding (G) – Elvis Costello
Should I Stay or Should I Go (D) – The Clash
Stand (E) – R.E.M.
Breakdown (Am) – Tom Petty & The Heartbreakers
Psycho Killer (Live) (Am) – Talking Heads
Set 2
My Best Friend's Girl (F) – The Cars
Learn to Fly (B) – Foo Fighters
Can't Get Enough (C) – Bad Company
Just Like Heaven (A) – The Cure
Brown Eyed Girl (G) – Van Morrison
Born To Be Wild (E) – Steppenwolf
Back In The U.S.S.R. (A) – Paul McCartney
Tush (G) – ZZ Top
I Fought the Law (D) – The Clash
Honky Tonk Women (G) – The Rolling Stones
It's a Shame About Ray (A) – The Lemonheads
867-5309 (Jenny) (F#m) – Tommy Tutone
Set 3
Take Me To The River (Live) (E) – Talking Heads
The Last Time (E) – The Rolling Stones
Takin' Care of Business (C) – Bachman-Turner Overdrive
Refugee (F#m) – Tom Petty & The Heartbreakers
What I Like About You (E) – The Romantics
Brown Sugar (C, sax) – The Rolling Stones
Summertime Blues (Remixed Live) (A) – The Who
Love Shack (C) – The B-52's
Runnin Down A Dream (E) – Tom Petty