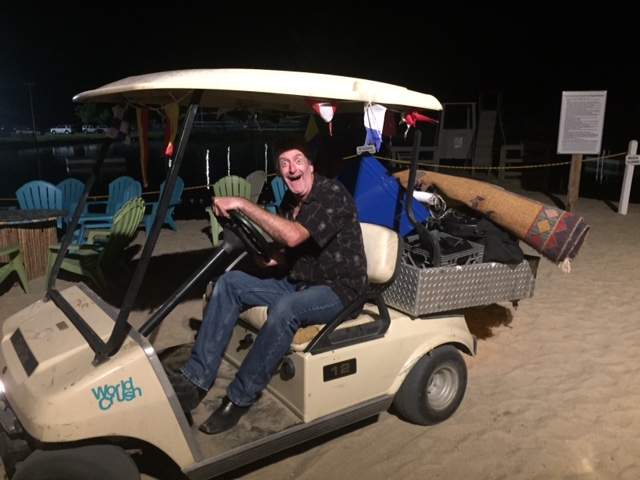 Severe thunderstorms in the area caused the evacuation of the Tiki Bar – and out our gig. We basically played the first set then rushed to protect our crazy expensive gear from the elements. At least we got all of the sax song in! (Thanks, Bob!) And, in the end, it never did rain. Since when can weathermen predict the weather?
Here's how we promoted the gig:
I guess that makes the last gig entitled "A New Hope."

In any event, the Tiki Bar has begged us to return, so return we must. I do note, unfortunately, that the popular (but time-consuming) wedding-ring-hunt event has been CANCELED for this gig, so please leave your metal detectors at home.

What's that? The details? Oh yes, of course. Here you go:

Come to Nashoba Valley's outdoor venue, The Sunset Tiki Bar (https://www.skinashoba.com/), on Sat 07/30/16 (7:30-10:30ish), hear some cool music, eat some good food, and definitely buy a round for the band!

This is not some cheap recording of The MCats Band.
This is not some tribute band imitation of The MCats Band.
This is the one, the only, ask-for-them-by-name: The MCats Band.

We started playing in 2005 as a one-time gig, and we have never stopped playing!

Hope to see you on July 30th!
Set 1
1. (K & D) Breakdown (Am)
2. (A) Margaritaville (D)
3. (G) 500 Miles (E)
4. (A) Sultans of Swing (Dm)
5. (A) It's All Been Done (D)
6. (G) Last Dance with Mary… (A)
7. (K & B) Oye Como Va (A)*
8. (G) Tequila (E)*
9. (G) Should I stay or should I go
10. (D) Honky Tonk Women (G)*
11. (G) Brown Sugar (C)*
12. (G) What I like about you (E)
13. (K) Old Time Rock 'n Roll (E)*
14. (G) Gimme Three Steps (D)
15. (A) Bad case of loving you (E)
16. (G) Same Old Song and…(E)*
17. (A) Can't Get Enough… (C)
18. (B) Psycho Killer (Am)
* = songs with sax
Set 2
1. (D) Love Shack (C)*
2. (G) Rock 'n Roll Fantasy (E)
3. (G & B) You Wreck Me (D)
4. (D & B) Just Like Heaven (A)
5. (G & K) Centerfold (G)*
6. (G) Look Sharp (C)
7. (G) No Matter What (A)
8. (K & D) Bohemian Like You (B)
9. (G) Tush (G)
10. (G) I will Follow (E)
11. (A) Refugee (F#m)
12. (G) 867-5309 (Jenny) (F#m)
13. (A) Peace, Love and… (G)
14. (G) Runnin' Down A Dream (E)
15. (A) Summertime Blues (A)
ENCORE
16. (G) Already Gone (G)
17. (G & K) Rebel Yell (B)