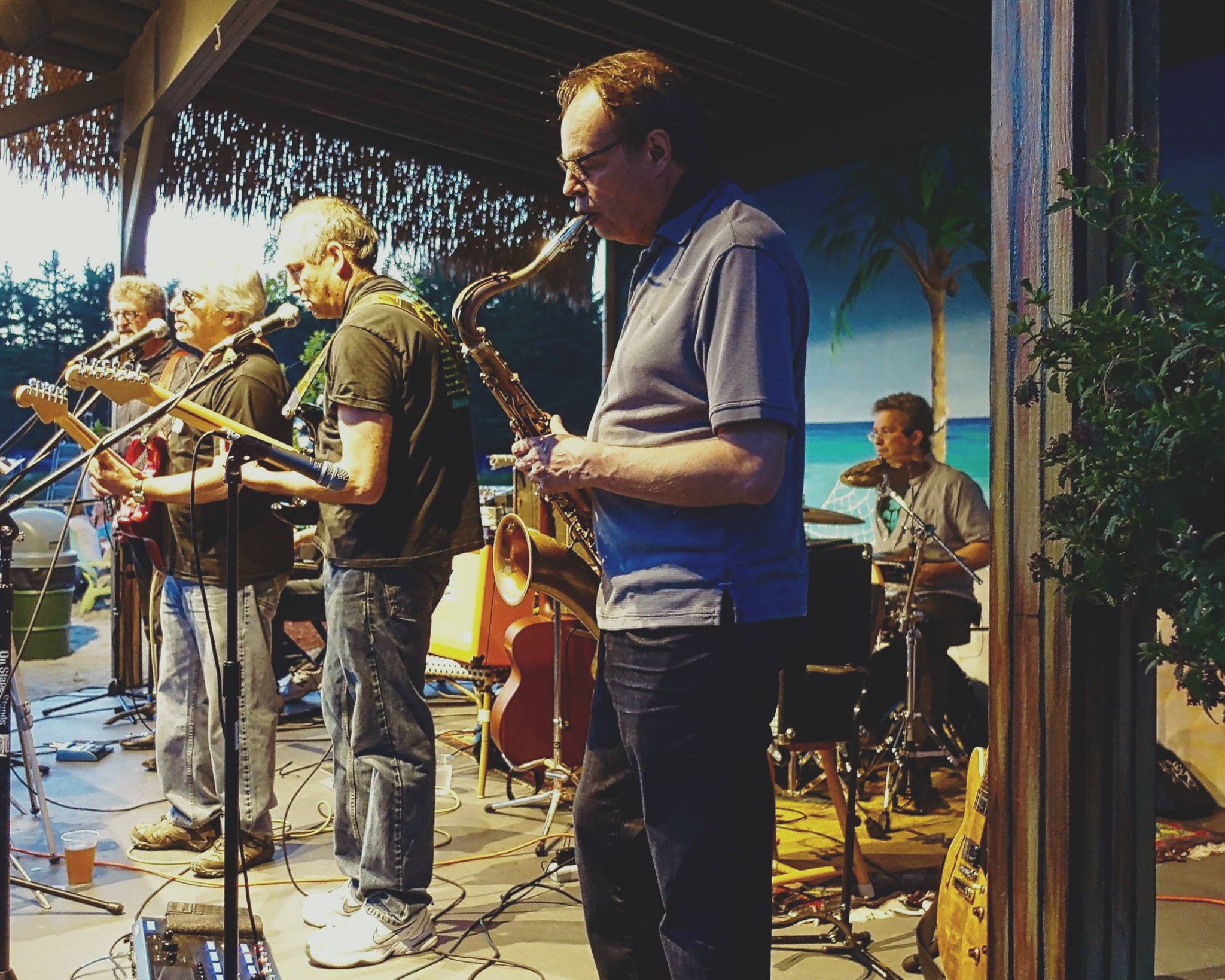 One of the things we love about playing at The Tiki Bar is that they let us play with golf carts! And occasionally loosen up the crown by providing and opening act! (Just kidding, thanks to Mickey Lorden for sharing the stage while we set up!)
Here's how we promoted the gig:
If you are thinking that the titles of these gigs remind you of Star Wars, then whatever we are doing is working. (And, for the record, our sax guy didn't actually go anywhere. And these are not the droids you're looking for.)

In any event, the Tiki Bar venue is great, and we hope you'll join us for food, friends, and fun. Bonus points if you noticed both the alliteration and the alphabetical order.

The details:

Come to Nashoba Valley's outdoor venue, The Sunset Tiki Bar (https://www.skinashoba.com/), on Thu 08/18/16 (7:30-10:30ish), hear some cool music, eat some good food, and definitely buy a round for the band!

This is not some cheap recording of The MCats Band.
This is not some tribute band imitation of The MCats Band.
This is the one, the only, ask-for-them-by-name: The MCats Band.

We started playing in 2005 as a one-time gig, and we have never stopped playing!

Hope to see you on August 18th!
Set 1
1. (K & D) Breakdown (Am) – Eamon √
2. (A) Margaritaville (D) – Jon √
3. (G) 500 Miles (E) – Eamon
4. (A) Sultans of Swing (Dm) – Jon
5. (A) It's All Been Done (D) – Erik √
6. (G) Last Dance with Mary… (A) – Eamon √
7. (K & B) Oye Como Va (A)* – Jon/ET √
8. (G) Tequila (E)* – Jon √
9. (G) Should I stay or should I go – Eamon
10. (D) Honky Tonk Women (G)* – Eamon √
11. (G) Brown Sugar (C)* – Eamon √
12. (G) What I like about you (E) – Erik √
13. (K) Old Time Rock 'n Roll (E)* – Eamon √
14. (G) Gimme Three Steps (D) – Jon √
15. (A) Bad case of loving you (E) – Eamon √
16. (G) Same Old Song and…(E)* – Eamon √
17. (A) Can't Get Enough… (C) – Eamon √
18. (B) Psycho Killer (Am) – Erik √
Legend
* = songs with sax
√ = songs in quick succession
(A) All in
(G) Guitar
(D) Drums
(K) Keys
(B) Bass
Set 2
1. (D) Love Shack (C)* – Eamon / Girls
('When will I be Loved' – Rebecca?)
2. (G) Rock 'n Roll Fantasy (E) – Eamon √
3. (G & B) You Wreck Me (D) – Eamon √
4. (D & B) Just Like Heaven (A) – Erik √
5. (G & K) Centerfold (G)* – Jon
6. (G) Look Sharp (C) – Jon √
7. (G) No Matter What (A) – Eamon √
8. (K & D) Bohemian Like You (B) – Jon √
9. (G) Tush (G) – Eamon √
10. (G) I will Follow (E) – Eamon √
11. (A) Refugee (F#m) – Eamon √
12. (G) 867-5309 (Jenny) (F#m) – Eamon √
13. (A) Peace, Love and… (G) – Jon √
14. (G) Runnin' Down A Dream (E) – Jon √
15. (A) Summertime Blues (A) – Eamon √
ENCORE
16. (G) Already Gone (G) – Jon √
17. (G & K) Rebel Yell (B) – Eamon √
Others:
1. (G) You Really Got Me (G) – Eamon
2. (G) Dirty Water (E) – Jon
3. (A) I Want To Be Sedated (E) – Jon
4. (G & B) Sunshine of your.. (G) – Eamon
5. (A) Learn to Fly (B) – Erik