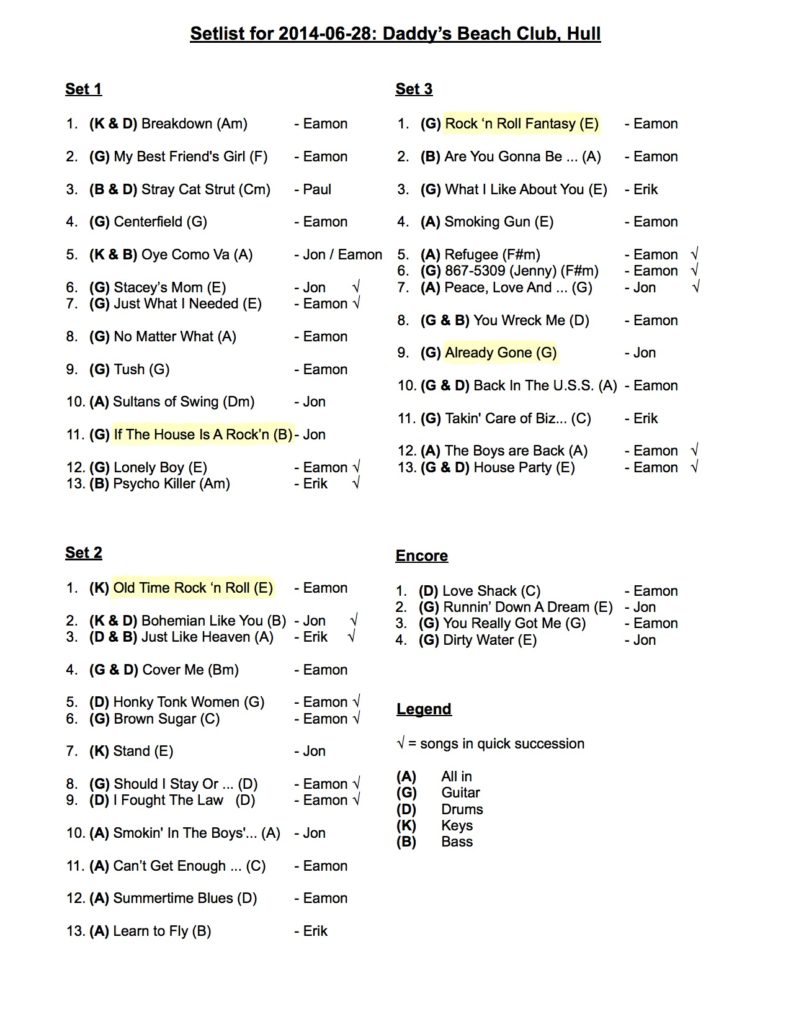 Double booked – d'oh! So, not Hull 2 gig today.
Since I won't have gig pics to upload, I thought I'd take this opportunity to share a little behind-the-scenes info with the above setlist photo. As you can see, we plan the song order in advance, for many reasons. On the keyboard, I have 10 presets. I rarely (if ever) transpose, but it's easier for me to have, for example, two B3 songs back-to-back. Similarly, Paul (lead guitar) uses two different guitars and tries to minimize switches. Some songs are in the same key, so they make good songs to play in succession. All of that said, we rarely follow the setlist exactly. We often tweak the setlist on gig day to accommodate requests, time restrictions, and the mood of the crowd.
Most of us play from chord sheets (lyrics plus chords). We don't use sheet music, never have. But it's not exactly easy to remember the lyrics of 100+ songs, which is how many we have in our repertoire!
Finally, we try to add new songs (highlighted in yellow above) every gig.
Those who rock salute you! We love you mans!
Set 1
Breakdown (Am) – Tom Petty & The Heartbreakers
My Best Friend's Girl (F) – The Cars
Stray Cat Strut (Cm) – Stray Cats
Centerfield (G) – John Fogerty
Oye Como Va (A) – Santana
Stacy's Mom (E) – Fountains of Wayne
Just What I Needed (E) – The Cars
No Matter What (A) – Badfinger
Tush (G) – ZZ Top
Sultans of Swing (Dm) – Dire Straits
The House Is Rockin' (B) – Stevie Ray Vaughan & Double Trouble
Lonely Boy (E) – The Black Keys
Psycho Killer (Am) – Talking Heads
Set 2
Old Time Rock and Roll (recorded in F#, play in E) – Bob Seger & The Silver Bullet Band
Bohemian Like You (B) – The Dandy Warhols
Just Like Heaven (A) – The Cure
Cover Me (Bm) – Bruce Springsteen
Honky Tonk Women (G) – The Rolling Stones
Brown Sugar (C, sax) – The Rolling Stones
Stand (E) – R.E.M.
Should I Stay or Should I Go (D) – The Clash
I Fought the Law (D) – The Clash
Smokin' In The Boys' Room (recorded in D, play in A) – The Brownsville Station
Can't Get Enough (C) – Bad Company
Summertime Blues (A) – The Who
Learn To Fly – by Foo Fighters (B)
Set 3
Rock 'n' Roll Fantasy (E) – Bad Company
Are You Gonna Be My Girl (A) – Jet
What I Like About You (E) – The Romantics
Smoking Gun (Em) – Robert Cray
Refugee (F#m) – Tom Petty & The Heartbreakers
867-5309 (Jenny) (F#m) – Tommy Tutone
(What's So Funny 'Bout) Peace, Love and Understanding (G) – Elvis Costello & The Attractions
You Wreck Me (D) – Tom Petty
Already Gone (G) – Eagles
Back In the U.S.S.R. (A) – The Beatles
Takin' Care of Business (C) – Bachman-Turner Overdrive
The Boys Are Back In Town (A) – Thin Lizzy
(Ain't Nothin' But a) House Party (E) – The J. Geils Band
Encore
Love Shack (C) – The B-52's
Runnin Down A Dream (E) – Tom Petty
You Really Got Me (G) – The Kinks
Dirty Water (E) – The Standells