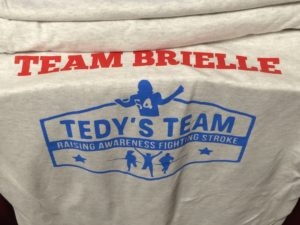 In February 2005, just after winning his third Super Bowl ring and returning from the NFL Pro Bowl in Hawaii, New England Patriots legend Tedy Bruschi suffered a stroke. Bruschi later joined forces with the the American Stroke Association (ASA) to create Tedy's Team, a group of runners raising money for the ASA and training to complete local and destination races.
On 03/12/16, Team Brielle, founded by Brielle Cormier under the umbrella organization Tedy's Team, held a fundraiser at Mt. Pleasant Golf Club in Lowell. Brielle started her fundraising efforts (which also include running half and full marathons) after her father died suddenly from a stroke in 2013.
The MCats Band (itself founded as a fundraising band) was honored to play at this great event. Thanks, Brielle!
Set 1
1. Good Lovin'
2. It's All Been Done
3. Centerfield
4. Breakdown
5. Stray Cat Strut
6. 500 Miles
7. Oye Como Va
8. Look Sharp
9. No Matter What
10. Just What I Needed
11. Sultans of Swing
12. Lonely Boy
13. Psycho Killer
Set 2
1. Margaritaville
2. Last Dance with Mary Jane
3. Smoking Gun
4. Just Like Heaven
5. Bohemian Like You
6. Honky Tonk Women
7. Brown Sugar
8. Old Time Rock 'n Roll
9. What I Like About You
10. Mustang Sally
11. Love Shack
12. Already Gone